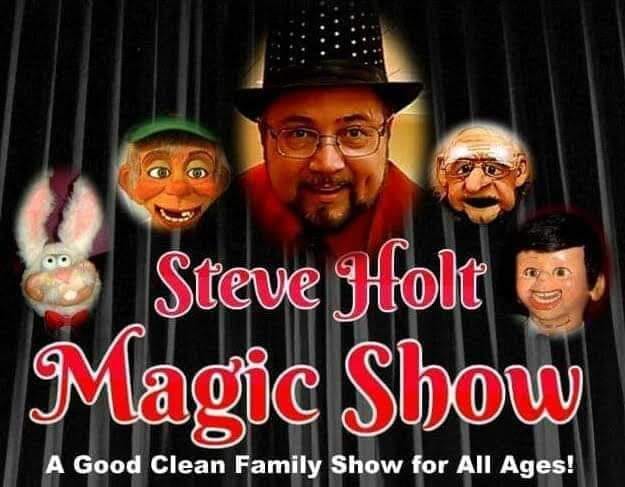 Steve Holt, Magician and Ventriloquist, one of America's Premier Entertainers is coming to a city or town near you soon to amaze your guests and families. He has trained in the tradition of the great Masters of yesteryear and has entertained family audiences for over 40 years. He toured the United States, England and Canada with his full evening stage show, "The Miracles of Magic Show" from 1987-1991 and brings and even better, easier-to-transport show into the New Year!
Steve's special brand of entertainment is full of quick witted one-liners, audience participation, loads of illusionary mysteries and is "A STRONG PERFORMANCE" with plenty of "AH HA MOMENTS". He is a party entertainment expert and a busy family comedy magician and ventriloquist serving the Carolina Upstate and the Southeastern United States!​ He is also a gifted School Assembly Presenter and Ministry Speaker, who is all about giving, inspiring and encouraging others.
what you will see at a steve holt show
Multiple fans of playing cards are magically produced from thin air and appear at Steve's fingertips!
Rubber bands mysteriously melt through each other!
Pencils and pens penetrate dollar bills and playing!
Coins appear at his finger tips and penetrate through the bottom of a coffee cup or drinking glass!
Spoons bend and melt in Steve's hands and this mind-blowing magic!
A Beautiful Lady or Young Girl is suspended in mid-air during the Princess Flying Carpet, The Pole Suspension or Super X illusions!
Ropes pass through an audience member!
STEVE'S VENTRILOQUIST ACT IS PART OF EVERY SHOW STARRING one of his puppetS' crazy and hilarious jokes. SEE: rickey, pop, tumbleweed, rufus, archie, hank and annabelle sue terry !!!
COPYRIGHT © 2017 - 2023

STEVE HOLT MAGIC SHOW - ALL RIGHTS RESERVED.