public SHOWS
MINISTRY / STEVE'S STORY
PRESENTATIONS FOR
CHURCHES - SCHOOLS - LIBRARIES - PARKS & RECREATION CENTERS - AUDITORIUMS - INDUSTRIAL TRADE SHOWS - FAIRS/FESTIVALS - RESTAURANTS - BUSKING STREET PERFORMANCES

OUR WEEKLY SPONSORS:
GOLDEN CORRAL SPARTANBURG, SC EVERY TUESDAY FAMILY NIGHT 5:00PM-8:00PM

CICI'S PIZZA sPARTANBURG, sc EVERY SATURDAY FAMILYNIGHT 5:00PM-8:00PM
* * * see CLOSE-UP MAGIC, puppets AND BALLOON ANIMALS AT YOUR TABLE* * *
gospelMINISTRY PRESENTAIONS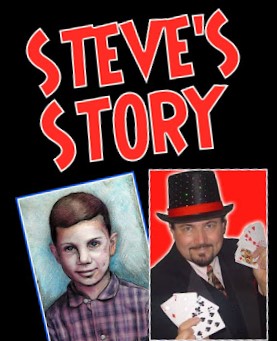 HEAR steve SPEAK, FROM HIS HEART, ABOUT HIS "BROKEN NOT DEAD STORY"
GOD TRANSFORMED HIM from a shy orphan boy, living in fear, to an adult entertainer full of purpose, dreams, and a hope for a bright future.
he was taught in LOVE for christ' sake and for others. he believed. all things became visual, real and true!
Steve surrendered his heart to the Lord in 1968 and then rededicated his life in 1990. He always knew God was at work in him. Steve learned that his birth name Steven meant, "Crowned One" and that to him said he was a King's Kid and a Child of God. That was a lot to take in at first, and it meant God had a destiny and a plan organized for Steve for the rest of his earthly life. Life in the orphanage changed big time when his Youth Leaders , Sue and Wally took Steve and his sister JoAnn from the orphanage and into their home in the summer of 1973 as foster children when they were teenagers. The two amazing, pioneering hero-parents, he now calls Mom and Dad, taught Steve much about life and showbusiness and legally adopted Steve when he turned 59 years old. WOW !!!
Steve toured the USA with his Big Magic Show until 1992, and as he ages, he scales down his show making it more mobile with lighter equipment. He showcases his show even today at multiple venues weekly at a moderate pace.

Churches and Ministries nation-wide invite Steve to, not only entertain, but to share his story and the Gospel in a compelling way using Bible teachings, stories, his testimony and his God-given talents. One must see this ministry presentation; believing ALL THINGS are POSSIBLE because of Jesus' sacrifice for us and be healed and delivered from our human, sinful behaviors AND be ENCOURAGED. We must live and not speak death words in any way.
ARE YOU SAVED?
DO YOU KNOW JESUS AS YOUR PERSONAL LORD AND SAVIOR?
IS JESUS KING OVER YOUR LIFE?
GOD SENT JESUS TO PAY YOUR FINE !
"For if you live according to the sinful nature, you will die; BUT if by the Spirit you put to death the misdeeds of the body, you will live, because those who are led by the Spirit of God are sons of God." ( Romans 8:13 & 14 )
Pray something like this- "Dear God, today I turn to your Son Jesus Christ as my Lord and Savior. I confess my sins (name them). Please forgive all my sin, cleanse me and grant me your gift of everlasting life. Amen."
Remember, God looks on the heart. Your heart attitude is important to Him.
"If you confess with your mouth the Jesus and believe in your heart that God has raised Him from the dead, you will be saved." (Romans 10:9)
Get a Bible, read it, and pray to Jesus- He will transform you from the inside out. You might want to start with the book of John.
"It is wonderful to see how God moves, teaches and blesses the various stages of our lives. Miracles happen everyday as we pray specifically, seeking Him first above ALL else, speaking boldly to our Heavenly Father. Ask Him for wisdom and favor today for others and for yourself. He answers prayers by proving his power faithfully in ways we cannot always see or understand."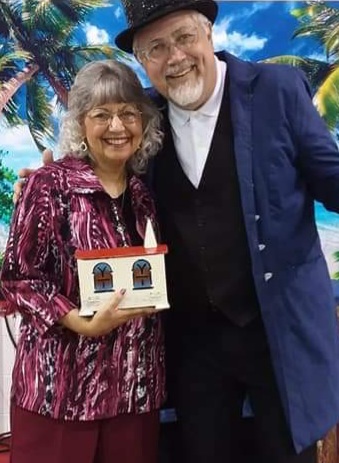 LIFE IS NOT A GAME. LIFE IS NOT A TRICK. LIFE IS NOT AN ILLUSION. LIFE IS VERY REAL AND WE MUST LIVE IT LIKE GOD SAYS.
JESUS LOVES YOU !!!
NOW, SHARE AND TELL FAMILY, FRIENDS AND OTHERS THIS GOOD NEWS !!!
invite steve to share in your neighbrhood, church, or event center today!
COPYRIGHT © 2017 STEVE HOLT MAGIC SHOW - ALL RIGHTS RESERVED.